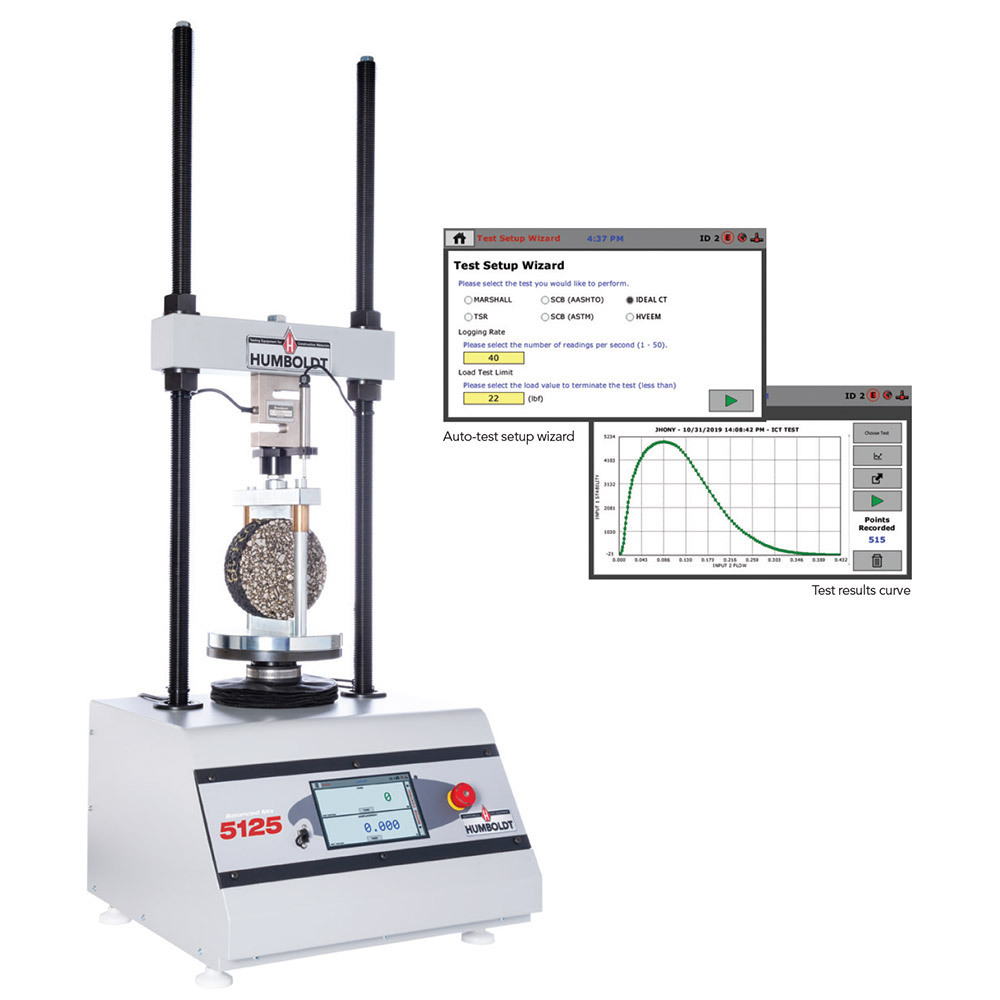 What load frame should you use when testing balanced mix design samples?
The balanced mix design method involves cracking tests used to simulate loading conditions on a test sample. By utilizing a load frame, these tests apply both metallurgy and fracture mechanic analysis by which the sample's cracking resistance and strength is measured. The test's results allow for improvements to be implemented in order to create safer, stronger, and more successful asphalt.
An ideal load frame for testing balanced mix design samples has the capability to perform various cracking tests. While many different cracking test methods exist, distinct specifications are required. Additionally, the machine's ability to produce detailed and reliable results is crucial for beneficial data.
Humboldt's HM-5125.3F is designed to easily and efficiently provide precise test-rate control for the automated testing of balanced mix samples. This multi-purpose load frame is capable of handling Ideal-CT; SCB (ASTM); SCB (AASHTO); Marshall, TSR and HVEEM tests.
The HM-5125 load frame is built around Humboldt's integral data logger and allows a test and its parameters to be chosen in the Test Setup Wizard. Data can be easily seen on the machine during testing and can be printed out using Humboldt's free Data Download Software. With a user-friendly touch screen, this load frame is completely automated and is able to operate and log data as a standalone device.
Additionally, all of Humboldt's load frames are designed to supply years of reliable service. The HM-5125's heavy-duty design and precise stepper-motor control provide a stable platform for a variety of testing needs. From educational institutions and consulting firms to high-volume commercial labs and construction projects, the HM-5125 Load Frame can perform multiple tests and applications with ease.
The benefits and features of Humboldt's HM-5125.3F load frame establish it as the perfect load frame to use when testing balanced mix design samples. Its unique versatility and excellent quality cause it to be the most highly regarded option in its field. Visit Humboldt's website to learn more.